It's been called the most important page on your website. This is the page where a visitor makes the choice whether to add the product to their cart or to give up and go elsewhere. It isn't good enough to leave this page to chance because if you do I can guarantee you are leaving a lot of money of the table.
The information that lives on a  product page is one of the main catalysts in the decision-making process. This means that a well constructed product page will increase the number of sales from your site.
37% of consumers want more detailed product information Cross-Channel Commerce 2011 : The Consumer View – Oracle Retail
This post will highlight what features are used by other successful online retailers and show a guideline for your business to create a killer product page.
Make a Confident Decision
The primary goal of a product page is to give visitor enough information to make a confident decision and about their purchase. The detail page should answer the question: "Is this the right product for me?" or "What action can I take next?"
Godiva makes good use of persuasive language to entice a visitor to add the product to their cart. They also give nutritional information for those who are looking for it. They minimize it by hiding it in a toggle but still makes it readily available.
Eliminate Doubt
A detail page should work to eliminate questions and doubt about the purchasing decision. Build visitor confidence and reduce anxiety by clearly indicating product quality, sizing & return policies. For example, "Is it possible to return this item?" or "Will I be able to make this work?"

Crutchfield understands that  audio equipment comes with a certain fear factor. To make the purchasing decision as easy as possible they offer video (in addition to photos) that help a visitor understand the product. They also go a step further by making it super easy to get customer support help to answer questions about extra equipment needs.
On Ice.com, the conversion rate for shoppers viewing video on product pages increased by 400%, while return rates dropped from 12% to 9%
Use Persuasion
A successful detail page will have persuasive sales copy, quality images and provide visitors with the information needed to make a confident decision. The higher the price the harder the copy has to work. Persuasive language that convey benefits is a help with luxury items.

Jambox does a nice job of painting a picture with words to help visitors get excited about the sound the device provides
Organize Information
Reduce clutter and organize information in priority order. Present and group information into logical chunks. Think about the information needed for a visitor to make an informed decision and make sure it is available – if it isn't they will look elsewhere.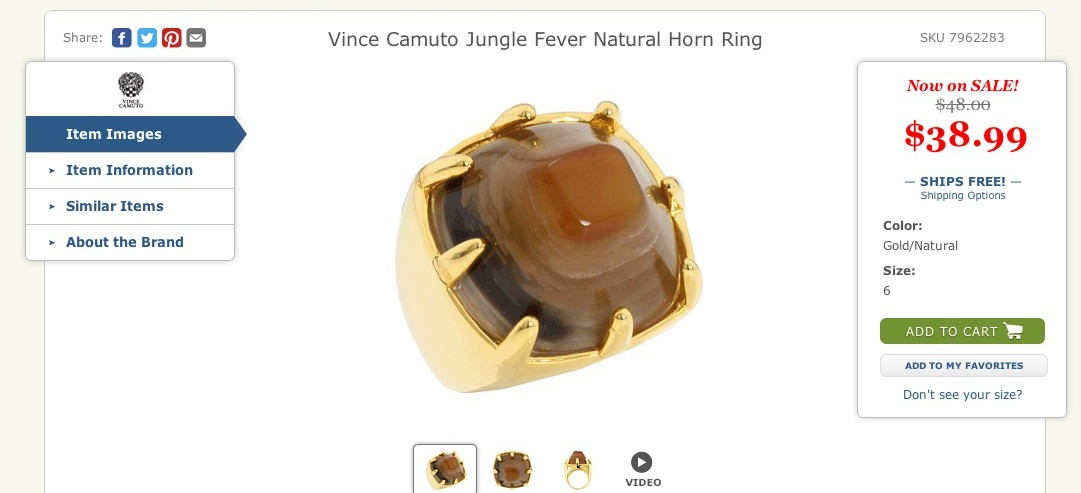 Zappos focuses primarily on the product imagery however makes other information readily available. By treating the information in this way the page feels clean and uncluttered keeping the visitor focused on their task.
Context Beats Confusion
Using multi-view images, 360 degrees views and video help give visitors the information they need to make a purchase decision. Additionally, showing products in context will give visitors a better idea of how the products will look on – eliminates fear of buying the wrong thing.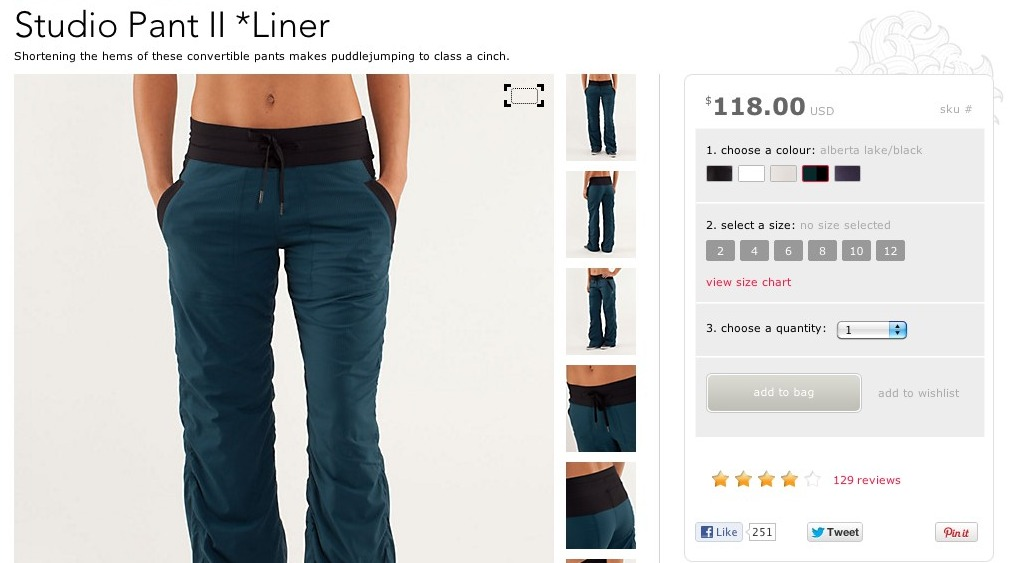 Lululemon has six different views of their products showing it from a number of different angles.
Simply Group's found adding 360 views led to a 20% rise in conversion rates for product pages, & a drop in returns rates.
Essential Product Page Must-Haves
The basic information that visitors expect to see on a product page before making a purchase decision. The following items are a must for almost any detail page:
Title
Price
Add to Cart button
Images
Product Description
Product Details (material / dimensions / weight / care)
Sizing Information
Return Policy
Shipping Options
Nice to Haves
The following add credibility and provide confidence to make a purchasing decision
Ratings / Reviews
Add to Wish list
Video
360 Views